よくある質問
How often do you rehearse?
---
Normally, we have three two hour rehearsals per week, organized around the schedules of group members. All members are able to work Mendicants into their schedules and find that it doesn't distract from school work nor other extracurriculars. While in the group, members have taken very heavy course loads, directed musical theater productions, and even won national soccer championships. When the group was virtual in 2020-21, we had one rehearsal per week, in addition to virtual recording sessions, social events, and workshops.
---
Where does the group tour?
---
Our group usually takes 3-4 trips per year. These include ICCA semifinals in Oregon, our MLK weekend show in Los Angeles, and our annual spring tour. In the past four years, we have been to New Orleans (where we ate crawfish), Hawaii (where we skydove in our jackets), and Hong Kong (where we performed at the top of the city's tallest building). We had plans to go to Sydney, Australia in 2020 and will take the trip as soon as circumstances allow.
---
What kind of music does the group sing?
---
We sing everything from oldies like Brown Eyed Girl by Van Morrison to modern pop songs like Havana by Camila Cabello and Break My Heart Again by FINNEAS. If you like a song, chances are we've sung it or we'll sing it soon. We arrange all of our own music and have produced over 29 studio albums. Join us as we make our 30th album this year through virtual recording sessions.
---
What's the deal with shows and competitions?
---
The Mendicants have two big on-campus shows: Winter Show and Spring Show where we perform for hundreds of people. In addition to those shows, we compete in ICCA, the a cappella competition from Pitch Perfect. We have won multiple awards for best choreography, best soloist, and best arrangement.
---
How did the mendicants manage a virtual year?
---
The Mendicants virtually rehearsed, hosted social events, recorded for our upcoming album, and competed in ICCA. We had workshops on music arrangement, singing technique, audio mixing, and recording. We have been able to keep the group quite well connected and all are members and alumni are committed to making the group stronger than ever.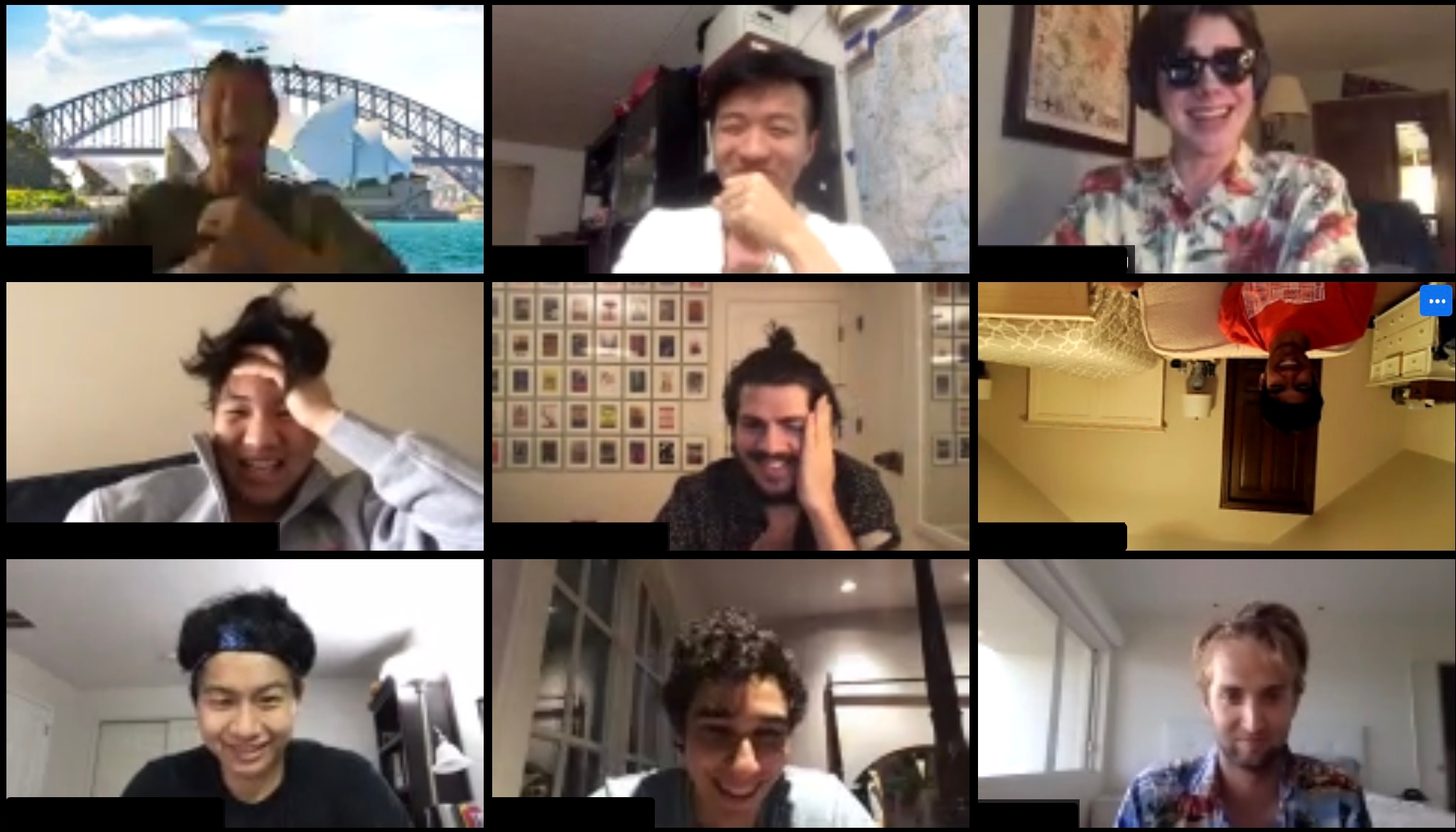 ---
I haven't really sung before. Can I still audition?
---
Of course! Before joining the group, many of our members had little more musical experience than singing in the shower. We don't require members to read music. We encourage you to audition regardless of experience level.
---
What should I include in my audition video?
---
Your audition video should include a snippet of a solo of your choice (about 45 seconds - 2 minutes). The song can be anything that you like and you think works well with your voice. If possible, try to record yourself in a quiet place without many echos. Also, please introduce yourself and the song you'll be singing at the beginning of the video and name the video file in the following way: "Firstname_Lastname". See the home page of this site for other specifications of the submission. If you have any questions, feel free to reach out to Marcus (mgrewal@stanford.edu) or Ryland (ryland@stanford.edu).
---
---